Welcome to our Website!

Greetings from Theodore, thanks for stopping by!


The Village of Theodore has lots to offer from businesses to some fantastic outdoor activities! Enjoy the quiet serenity of small town living right along a major travel route!
We are a village of nearly 350 residents located along the #16 Highway. We are within a short driving distance from the city of Yorkton (approx. 25 min), and a short excursion from the Whitesand River, which has the Whitesand Regional Park alongside it's shoreline and the Theodore Dam on the southern end of the lake. The lake and river are home to some great fishing for Walleye, Perch and Pike.
The Village of Theodore has a lot of great amenities for a community of its size! We have a hotel/bar, grocery store, a School, Senior Lodging and garages to name a few and a community complex that houses an outstanding skating facility and hall!
Please cruise through our website and see what we have to offer travelers and you!
If you are considering moving to the area, click on the link for homes that are for sale in Theodore! Who knows, we could be your future home!
ATTENTION RESIDENTS OF THEODORE - The Precautionary Drinking Water Advisory HAS BEEN LIFTED FOR the Village of theodore :
THE WATER SECURITY AGENCY, IN consultation with the Saskatchewan Health Authority, are advising that the "precautionary drinking water advisory(PDWA) issued by the Water security agency for Village of Theodore's potable water system
BE RESCINDED
as of 12:30pm Friday September 11, 2020.
- COUNCIL MEETING CHANGE -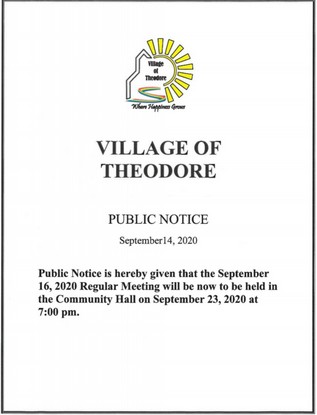 Updated information on your property taxes:
Here is the revised discount schedule for the remainder of 2020.
- 3% discount Sept 5th until Sept 30th
- 1% discount Oct 1st until Oct 31st.
- 0% for the month of November
- 1% penalty month of December
- THIS FALL IS THE NEXT MUNICIPAL ELECTION -
The Municipal election is on November 9th.
Call for nominations - Village of Theodore Municipal election
Mayor - Village of Theodore - number to be elected - 1
Councillors - Village of Theodore - number to be elected - 4
Will be received by the undersigned on the 7th day of October, 2020 from 9am - 4pm at 102 Main Street and during regular business hours Sept. 10 - Oct. 6, 2020 at 102 Mainstreet
Lyndon Stachoski - Returning officer
Click on the links to download/print the forms if you wish to run in the municipal election this fall.
Animal Control Bylaw - UPDATED
(This has now been finalized and is now in place - Click on the link to download. Please review to understand the forthcoming changes)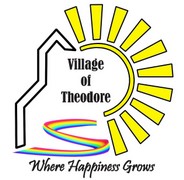 Hello Residents of Theodore and surrounding area,
Summer is slowly winding down and in the area the harvest season has already begun! Let's hope mother nature is more co-operative this upcoming fall than last season so we can have a successful harvest in a year that's given us many challenges.
- Our application for funding for our new water treatment plant has passed the provincial level and is now at the Federal level! We are still waiting to hear if our application has been sucessful and as soon as we know, you'll know immediately. It's our last hurdle to getting funding for our much needed water treatment plant that will go a long way to providing safe water for year to come.
- Our application to Saskatchewan Government Insurance under the Provincial Traffic Safety Fund Grant Program was also approved! We will receive $8,120 that will be applied to upgrading the School Safety Zone for St. Theodore School! The village will provide installation of two 'Blinker signs' and placement of the 'Speed Radar' sign. All of these have been ordered and should be installed this fall.
- The Ministry of Government Relations has approved our application under the "Municipal Economic Enhancement Program –MEEP- for $46,424! More great news! This funding will be put towards our Chip Seal road surfacing! The quote for the entire project is $69,754 so the village will only have to be responsible for $23,330. This project will take place on Sept. 14th and as long as mother nature co-operates and we will finally, finally see some much needed road work completed within the village!
- Council has also tentatively approved the offer we had put forward to the TDRB for the arena/hall facility after they had come back to council with an offer of acceptance and as an update for you - our negotiations have concluded. We are pleased to announce that both council and the TDRB have come to a final tentative agreement that has now moved on to the legal side of things and we await the paperwork so we can put pen to paper and begin a new era for both the village and the TDRB.
- White Spruce has resumed their regular grass cutting tasks at the cemetery and elsewhere if needed now that the Provincial government has relaxed the regulations.
Be safe, and take care of yourself, your family, friends and neighbors!
Village Council and staff.