FALL Public Works actions: Weather Permitting
- Fall Clean up > Oct. 15 and 22 !! (Tuesday's)
- Water Line Flushing > Oct. 21-25 !!
Council Meeting change of date:
*PUBLIC NOTICE OCT. 9TH, 2019
Public Notice is hereby given that the Oct. 16th 2019 regular council meeting will be advanced by one full week and is now in the Council Chambers on Oct. 23rd @ 7pm in the Village Office Council Chambers.
VILLAGE OF THEODORE 'SLOGAN' CONTEST - Is now Closed.
Now you vote!

To all Residents of Theodore and surrounding area! We are looking for a 'SLOGAN' to go along with our logo in our future promotion of Theodore!
Top Entries are all listed below for you to vote on.
The residents of Theodore and the surrounding area will Vote on their favorite choice for the 'Slogan'! The lucky Slogan winner will recieve a terrifc BBQ worth over $200!
Vote Below on the Question & Choice Poll - One vote per person

Welcome to our Website!

Greetings from Theodore, thanks for stopping by!
The Village of Theodore has lots to offer from businesses to some fantastic outdoor activities! Enjoy the quiet serenity of small town living right along a major travel route!
We are a village of nearly 400 residents located along the #16 Highway. We are within a short driving distance from the city of Yorkton (approx. 25 min), and a short excursion from the Whitesand River, which has the Whitesand Regional Park alongside it's shoreline and the Theodore Dam on the southern end of the lake. The lake and river are home to some great fishing for Walleye, Perch and Pike.
The Village of Theodore has a lot of great amenities for a community of its size! We have a hotel/bar, grocery store, a School, Senior Lodging and garages to name a few and a community complex that houses an outstanding skating facility and hall!
Please cruise through our website and see what we have to offer travelers and you!
If you are considering moving to the area, click on the link for homes that are for sale in Theodore! Who knows, we could be your future home!
Click on the link below to see assorted video
One never knows what you can find as you
drive down
a country road -
Adventure is usually just around the corner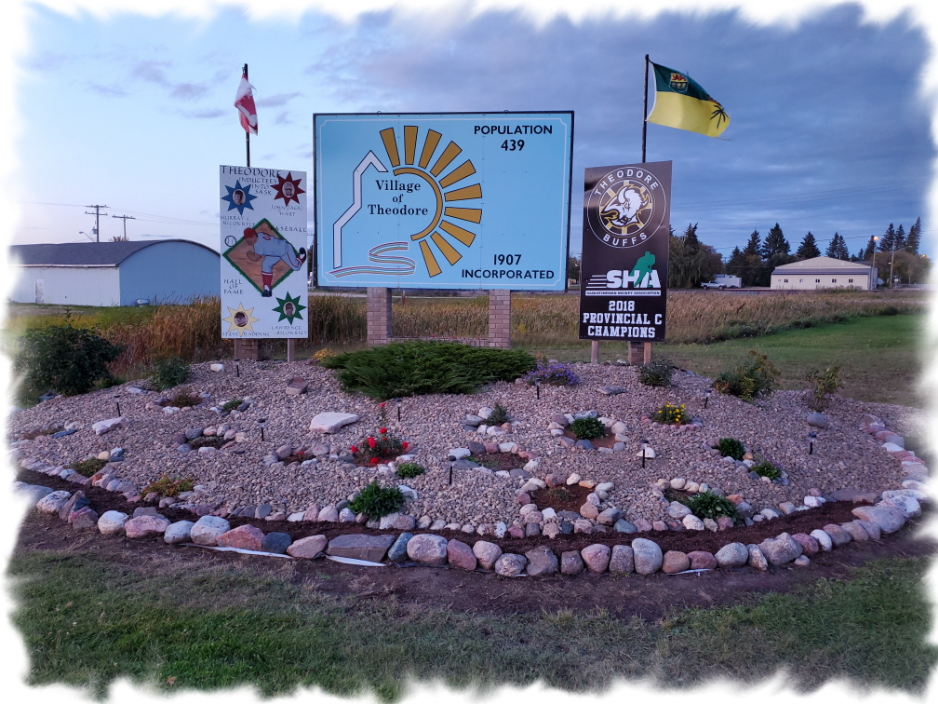 A huge 'Thank You' to Delaine and Karl Kuchinski who took on the task of Revitalizing the mound at the roadway near the entrance to Theodore! They did an outstanding job! Thank you!