Town Notices
Village Links
Theodore Council wants to keep you updated as best possible. Please check in here for any notices regarding Water Line breaks, Special Council meetings and more.

- Our Billboard at the entrance of town is another way to keep you informed on events and activities here in Theodore. You can rent the billboard sign for $10 (payable up front) and you can use the sign for 7 days (A full week to promote your event or maybe a birthday!)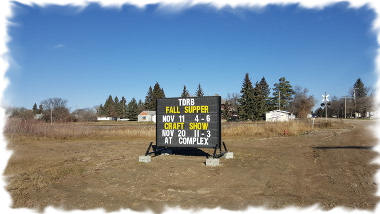 FOR YOUR INFORMATION:
- IF You have a streetlight outage on your street, you don't need to inform council or report it to the village office - You can use this link to take you directly to the site where you can report it yourself and they will send a repair crew to do the task.
https://saskpower.streetlightoutages.com/map/default.html
We had the Zamboni room tested for Asbestos (Sept. 2019) as recommended by OHS (occupational health and safety) due to the condition of the room- It came back positive and we had to bring in an Abatement team to remove and replace the drywall and insulation.
Here are the results of that Positive Test - click on the link for a PDF version you can either read or download.
**Yorkton RCMP Rural Detachment Notice - Click on the link below
Common sense would suggest that luring wildlife into town and feeding it because you think it is cute, will cause problems. That wildlife could become dependant on those feedings which in turn does not help the animal(s). Human food is in reality, "Junk Food" for them and could cause injury, or kill them. Wild animals may also: bite, scratch or hurt your own animals OR worse, be carrying diseases. Thank you for respecting your neighbours! -Councillor Onofriechuck
PROPERTY TAXES
Council has made some important changes to the future of your property taxes!!! Due to the delays caused by the Covid-19 pandemic, Tax Notices will not be able to be mailed out until July 15th. Therefore the DISCOUNTED TAX breaks have been adjusted accordingly. The Discount will apply as follows:
3% Discount to Sept. 30, 2020.
1% Discount to Oct. 31, 2020.
0% Discount or penalty to Nov. 30, 2020
1% PENALTY to Dec. 31, 2020


Waste Management / Removal

*As a result of changes implemented by the Provincial Ministry of Environment, the public works staff are NO LONGER PERMITTED to give out keys to the transfer station(landfill). Residents are encouraged to contact the village office to make arrangements to deliver their refuse to the transfer station. We will arrange to have someone from the Public works staff meet you at a pre-arranged time. Fees are charged to take refuse to the refuse area are set as a cost recovery ($50 per half ton load - you load and unload). The bins are rented and dumped by our contractor on a regular basis. Residents are urged to recycle. **Any Illegal dumping will be referred to the RCMP**
Utility Bills - Online Banking
*A friendly reminder that your Utility Bill is due 30 days after you receive it. A 10% penalty will be automatically applied to any payment received after the DUE DATE. Currently the Village of Theodore has online banking arrangements with the Cornerstone Credit Union, Bank of Montreal, Scotiabank, and TD Canada Trust. When making a payment online please allow 3 business days to process the payment. We are working with other financial institutions to allow online payments and will keep you posted as we add more institutions.
**Utility Billing - Landlord / Tenant**

Due to increasing issues with tenants in rental houses not paying their final bills, Council has chosen to proceed under section 369 of the Municipalities Act, and apply any outstanding utility billing owed by the tenant to the tax roll of the land owner. If you are a landowner who rents housing, please contact the Village Office for further information.
UPCOMING COUNCIL MEETINGS

Special Council Meetings
- Can take place at any time as determined by council, look for postings on here or at the Village office for dates.

Regular Council Meetings
- Take place on the 3rd Wednesday of every month, unless notified.
Next scheduled meeting will be ON Sept. 16th, 2020 @ 7pm (At the village office and we will be adhering to Social Distancing Guidelines as directed by the Provincial government)
-
The Village of Theodore town council meetings are always open to the public. Anyone wanting to make a presentation to council must fill out a delegation form at least 48 hrs prior to council meeting. The Delegation to Council form is intended to provide a consistent and fair process for all residents to bring forward issues or concerns to council members. You can download the form at the link on the Village office page
VILLAGE NEWS

-A New Garbage/Recycling Schedule is available now for 2020 that you can download/print
. Pick up is every 2nd Tuesday alternating with your regular garbage pick up. One week garbage pick up, the next week will be the recycle pick up. Please have your cart out by 7am for pick up.
***PLEASE RESPECT YOUR NEIGHBORS.

There are noise bylaws for the Village, there are Pet bylaws for the village and there are Traffic/Recreational Vehicle bylaws for the Village. If you are having issues, please contact our rural detachment of the RCMP.
ANIMAL ISSUES

Dogs and Cats continue to be a problem. Fines have been issued for some and council is planning on updating the animal bylaws, but until that time we ask that all dogs in the village be registered. Currently if your 'at large dog' goes missing, check with the village office as we will be holding them briefly before they are taken to the SPCA. Cats are also causing some issues, and for those who are trapping them please treat them with the utmost kindness and respect. Take them to the SPCA if they are causing you grief and speaking with the owner has been unsuccesful.

- If anyone would like a news posting placed on the website kindly drop us an email and we will post it once it has been reviewed. Email: village.theodore@sasktel.net