Whitesand Regional Park
Local Activities & Tourism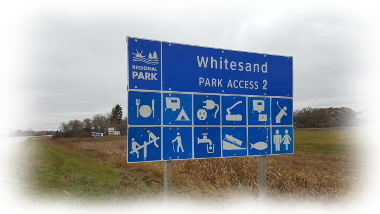 WHITESAND REGIONAL PARK is open for a brand new season!
Whitesand Regional Park located alongside the shores of the Whitesand River. To book your site or tee time call (306) 647-2191....
***Come on out and visit with the new Managers at the park this year: Marcia and Neil Scheller urge you to drop in for a visit!
They have added a deep fryer to the kitchen and have increased their options on the menu - Fingers foods, homemade baking and pies and more! Breakfast at 7am for the early birds and plenty of snacks and drinks for park attendees!
Call the office for camping fees / golf fees and any other information
Office hours: Mon-Thurs: 8am - 7pm .... Fri & Sat: 7am-9pm.... Sun: 7am - 7pm
New - Disc Golf!

An 18 target disc golf course was added to the existing golf course! Regular golfers have the right of way since they tend to hit farther. There are marked trees and red targets throughout the course. Three discs are used for play, a driver disc, midrange disc and a putter disc. They are available at the park office for use (with a deposit of $60) Once the discs are returned you are refunded the $60. Check it out!

New - Mini Golf is back!

The mini golf course has been refurbished and ready for game time! Drop in and play a round when you get the chance! Only $2 for a round of mini golf!

There are electrical well-treed campsites, and non-electrical sites, group camping and picnic area, Nine hole golf course, firewood, playground, showers, ice, concession, fish filleting facilities, shore fishing boat launch, and fishing licenses.
VISIT THE WHITESAND PARK ONLINE - click on the link below